Termite Control in Midrand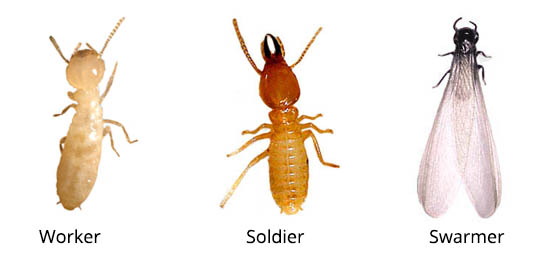 Termite Control here in Midrand is a benchmark service that is rarely done correctly. At Midrand Pest Control we take pride in our work and guarantee the results of any termite related service we provide.
Soil poisoning, Spot treatments, pre construction treatments and all aspects of Termite Control are our specialty.

Here in Midrand and other inland areas, Subterranean Termites run a mock with very few companies doing jobs correctly. Given half a change, these pests can devour the structural timber of your roof, your wendy house, garden tools and in some cases cause your floor of roof to cave.

Termites are an advanced pest and an advanced professional Termite Control treatment should be carried out by Structural Pest Control Professionals.

There are 3 main species of Subterranean Termites found here in Midrand, these are namely:

Cryptotermes brevis:
Otherwise known as the West Indian Dry Wood Termite, these guys live inside your structural timber without any water source. Colonies are large and it has been known and found up to 20 colonies may infest a single piece of larger timber. Midrand Termite Control can identify different species of Termites and treat them accordingly.

Microtermes spp:
Are a smaller species, dont let their size fool you. They pack just as much of a punch as their cousins.

Hodotermes mossambicus:
These are predominantly Harvester termites. They are often found in open fields. They may destroy crops and grazing. Larger colonies may cause soil erosion. Midrand Pest Control deal with any and all species without fuss.

If your reside in the general Midrand area and think you need an inspection or quote for termite control. Please feel free to give Midrand Pest Control a call and we will gladly see too any Infestation regardless of shape and size.

Our Midrand staff are friendly and always willing to take your calls. Flee quotations for any pest related issue need not be a hassle. Let our Termite Control guys take care of it for you.
News Articles
03/04/2012
Bed bugs are out in force in Johannesburg
It is a well known fact that bed bugs are on the increase in most... Read More
13/04/2012
Termites on the increase in Gauteng
I the last year, we have noticed a huge increase in termite relat... Read More
08/11/2012
Summer and Insect Control
The summer is here, the sun is shining and humidity levels are hi... Read More
19/02/2014
Wasps in Midrand
Summer is in full swing now, with summer comes all sorts of flyin... Read More
09/09/2014
Cockroach infestation in Johannesburg
Cockroaches in the Johannesburg area are on the increase in both ... Read More
09/09/2014
Rats in Johannesburg
We have all seen rats at some point in our lives in the Johanne... Read More
07/05/2016
Winter and rodents, tips and tricks for preventing rodent infestations
Another year has gone by and rodents such as rats, mice and squir... Read More
05/10/2016
Buying or selling your home or property?
Are you buying or selling you home or property? Are you planning ... Read More